By far the

EASIEST

, most advanced Beat Maker software

EVER DEVELOPED!

Don't know how to read music?

NO PROBLEM!!

Never composed a beat before?

Yup, we've got you COVERED!

Are you a professional musician?

You

NEED

Sonic Producer V2.0!

We designed an EASY to use CLICK N' DRAG environment that is

GUARANTEED

to be SUPER USER-FRIENDLY!!

Sonic Producer V2.0

REVOLUTIONIZES

Keyboard Shortcuts to make

MASTERING

the 4 Octave Keyboard a

BREEZE!!
Enter our

MONTHLY BEAT CONTEST

and win some

COLD HARD CASH!!!

That's right, each and every month we hand out a COOL HUNDRED BUCKS to one lucky WINNER. Enter every month!!
We will show you STEP by STEP how to SELL YOUR BEATS and market yourself so you can make SERIOUS Money!
Just THINK....if you

WIN ONLY ONE TIME.....

It's like getting Sonic Producer

FOR FREE

, PLUS like $60 PROFIT!!

WOW!
Full 4 Octave Keyboard!
12 Programmable Drum Pads!
Download your Beats as MP3 or High Def Studio Quality 44.1K WAV FILE!!
Add Measures on the FLY!
16 Channel FULLY Functional Mixer!
Upload your Beats directly to Facebook!
THOUSANDS AND THOUSANDS OF SOUNDS to choose from!
OWN EXCLUSIVE Rights to YOUR Beats! Do what YOU want with them! 100% Royalty FREE!
Use our FAMOUS "Save Online" Feature and finish your Beat LATER!
Client Testimonial
"If you love music and have a desire to create full-length beats of your own, Sonic Producer V2.0 is exactly what you're looking for. Not only is it affordable and extremely easy to use, but the staff members at Sonic Producer are incredibly friendly and helpful. I had no idea what I was doing when I first started making music, but thanks to their instructional videos on the site I was on my way to making my own beats in no time. A year later I am still using this software and am truly amazed at how it has been consistently improved beyond expectations. Sonic Producer V2.0 is the best bang for your buck!" -

DJ Agent24

This is a REAL testimonial from a REAL customer. He was not paid or given anything for free for exchange for this testimonial. This is a REAL and GENUINE experience. Proof is on file with the site administrator and ready to show any FTC Official.
Check out some sample beats that were made using SonicProducer:

| | | |
| --- | --- | --- |
| | | |
| Beat Example #1 | Beat Example #2 | Beat Example #3 |
OK! It's obvious that Sonic Producer V2.0 SHOULD be selling for

ATLEAST $399!

My accountant literally fainted when I told him I've decided to practically GIVE IT AWAY for only $34.99!!

You'll get your very own personal

MUSIC PRODUCTION MACHINE

with all the bells, Whistles and cutting edge performance you'll find in a professional studio…OPEN 24/7 for you to be pounding out beat after beat!

CRAZY!!

You'll OWN all the music you PRODUCE!

100% ROYALTY FREE!

Do what you want with them! Others charge you for Exclusive Rights to your Music! We throw it in for

FREE!!

Our 24/7 Customer Support Team is here to help you with ANYTHING you need! Others charge more for this dedicated level of service…We throw it in for

FREE!

We offer NO Recurring costs to access Sonic Producer V2.0! NO Gimmicks! NO Games! NO Bait n' Switch!

You'll GET IT ALL!!

You'll have access to an exclusive Members area that's JAM PACKED with everything you need!

We include an industry leading 60 DAY

MONEY BACK SATISFACTION GUARANTEE!

COME ON….BUY Sonic Producer V2.0 NOW!…INVEST in yourself….UNLEASH your creativity!!! ALL for a ONE TIME PAYMENT of $34.99!!

WHAT are you waiting for??

Click below to get started NOW!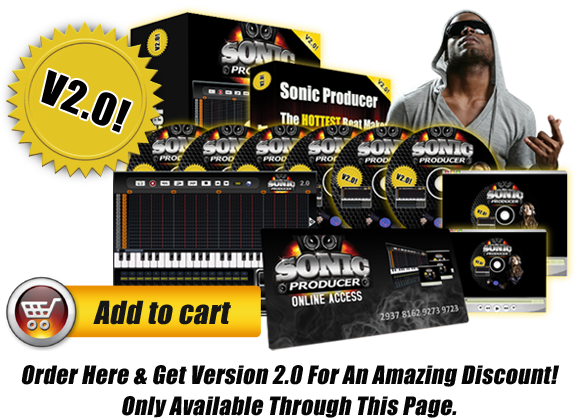 Finally….You Can Take your Music to a Whole New Level
Yes

, I want to Jump Start my Music Career and Make KILLER Beats NOW!!

Yes

, I understand this Deal will NOT last long!

Yes

, I wanna Make Killer High Def Quality Beats and be taken SERIOUSLY by Professional Producers!!
Here's a Summary of what your Membership Includes:
FULL Access to our Award Winning Online Beat Maker Software that is Guaranteed to be the EASIEST and BEST Music Production Machine to ever to hit the Internet! –

Valued at $199.99

Thousands of High Def 44.1K Samples and Instrumentals – Updated Regularly!! –

Valued at $299.99!!

Instructional Videos that will show you step by step on how to make KILLER beats! –

PRICELESS!!

You'll be eligible to Enter into our Monthly "Best Beat Contest" –

You can win $100 EACH MONTH!!!

Online Access to our Exclusive Member's Area Jam Packed with information and Tutorials -

Updated regularly! – PRICELESS!!

Exclusive and FULL Lifetime Rights to ALL the Beats you make! –

Valued at $79.99!!

24/7 Dedicated Customer Support! Try getting THIS from other Companies!

We GUARaNTEE your SATISFACTION!!!

Online Storage of all your Music and Project files! –

Others charge for this but we give it to you for FREE!!

You get ALL the above for only a ONE-TIME Payment of $34.99!! You BETTER HURRY!!